Friends for over 30 years, Stevie Nicks and Dave Stewart joined forces in 2010 to make her first solo record in almost a decade. In Your Dreams was recorded at the Fleetwood Mac member's home in California over a 10-month period, and spawned a behind-the-scenes documentary Stevie Nicks: In Your Dreams.
Speaking to Digital Spy at the Curzon cinema in Mayfair before last night's (September 16) UK premiere of the documentary – produced and directed by the musicians – Nicks tells the story of how Stewart convinced her to commit what she has since described as "the happiest year of my life" to camera.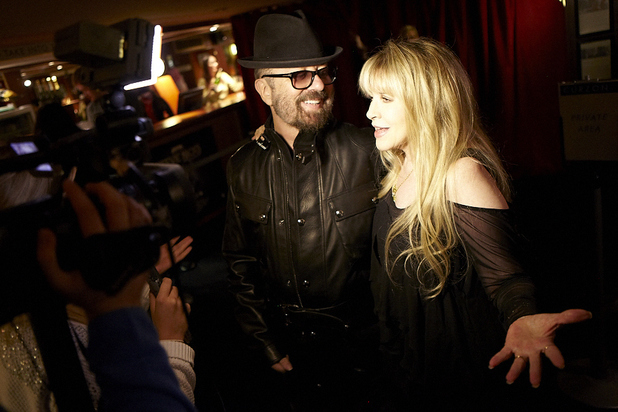 Stevie Nicks and Dave Stewart speak to the media at the 'In Your Dreams' premiere
"Well, [it came about] because we were doing it at my house. When I first asked Dave [Stewart] to come over and talk to me about producing the record, I had decided never to do another solo record. So, I wrote 'Moonlight' the year before, in Australia, and that's when I decided I'd maybe do a record, because I've got to surround this song with some other songs – otherwise, what am I gonna do, put out one song, you know?
"That's when I called Dave and said, 'Would you like to produce this record? I have a song'. So Dave came over to my house and we talked about it, and then he said, 'Yeah, I'd like to do it'. So we looked around and I said, 'We could do it here, 'cause this is a big house, and I don't live here, I live three minutes away in an apartment. So it's basically empty. My goddaughter lives in the garage. So, why don't we do that, and what do you think?' And he said, 'Let's do that'.
"So, we decided to start, and right on the first day, he said, 'You know, we should film this'. And I said, 'Well, you know what that means. That means make-up, that means hair, that means wearing nice clothes every day', and we kind of discussed it, and he said, 'If you don't like it, we won't use it.
"'Shooting is not nearly as expensive as it used to be, so this isn't gonna to cost us a million dollars. So if it's totally terrible, we won't use it. Secondly, you might be sorry at the end of this that we didn't get something, 'cause I have a feeling it's going to be very natural'.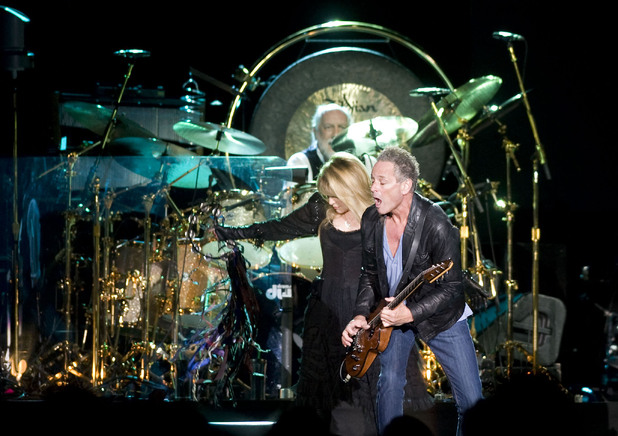 © PA Images / Matt Crossick / EMPICS Entertainment
Fleetwood Mac during the 2009 'Unleashed' tour
> Stevie Nicks 'thrilled' by Christine McVie's return to Fleetwood Mac for London shows
"So I said, 'You know what?' I remember in the Tom Petty documentary [Runnin' Down a Dream] that was four hours long, there was a part on the Wilburys, the five of them. There was George [Harrison], Bob [Dylan], Tom, Jeff [Lynne] and Roy [Orbison]. And it was so fantastic, and very very soon after that, two of them were gone.
"I always was so personally glad that they let the cameras in, because certainly with that group of five men, I would have thought they would have said no. But they didn't, and they threw caution to the wind, and they let it be filmed… I thought, 'You know… I'm not gonna take the vain route on this one. I'm going to say okay, I'm not a great make-up artist, but I'll do it, and I'll get my hair pristine, and I'll pick out a uniform that I'll wear every single day, and it will be nice, but I won't have to think [about it].
"So, we started and Dave came with 50 little flip-cams, gave the cameras to everybody. So we started, [and] everybody was filming – like, we'd be filming you right now. And so, within a week, everybody got very very used to it, and then when we were done every night, we'd all sit and show each other our film, you know? So we were all beginning to get excited about it.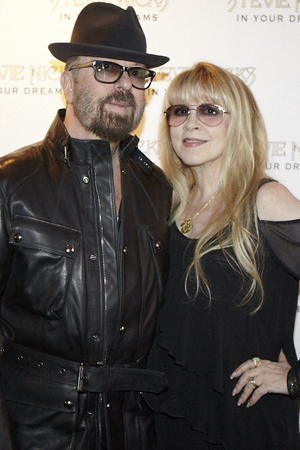 Stevie Nicks and Dave Stewart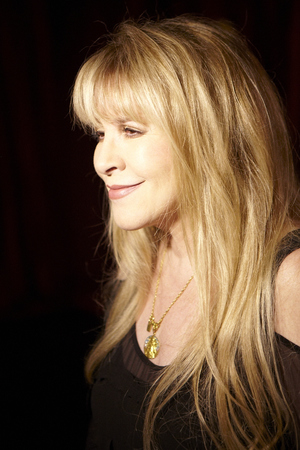 Stevie Nicks at 'In Your Dreams' movie premiere
"And slowly, Dave started bringing in very subtle, very innocuous, better cameras… after [the first three months], we had better filmmakers. But we never hardly saw them, and we were used to it by then, so it didn't matter. And they knew, they'd all been warned, 'No bad angles, try to get good light, try to have cameras that do well in low light, blah blah'. So, and it was just, you know, it was like… then it was fun… and when you see it, you'll understand that.
"So when it was over, a year later, and everybody left… the girls went home, my goddaughter had cooked for us every day, five days a week, ten people moved out of the cottage, and I was sitting there on the stairs with my little dog Sulamith, and I looked at Sulamith and I said, 'Now what?' And I just cried, and I thought, 'I just would like to start again tomorrow on 15 more songs. I don't want this to ever be over'.
"So that's the reason I did it, and because it's filmed, it will never be over. It will always exist in the minds and imaginations of everybody – little kids, grown-up people, old people, music people, people that just wanted to make an album and be in the house… it's there for everybody.
"It was very good of Dave to suggest it, because most people would have known that I don't love being filmed… he was able to say, 'But you will love it'. And I believed him. So that's the great thing – believe."
Watch a trailer for Stevie Nicks: In Your Dreams below:
Stevie Nicks: In Your Dreams will be released on DVD in November. The 4CD box set Fleetwood Mac: 25 Years – The Chain is out now.